Ahhh Belize. There sure is a lot to do in this one of the smallest countries in Central America. From diving flourishing reefs and the iconic Blue Hole to exploring ancient Mayan ruins and trekking through the jungle, there is something for everyone. This laid back country is a scuba diver's dream. Unlike most of central America, the official language is English, with the locals speaking a mixture of French creole and English.
There are multiple courses of action you can take upon touching down in Belize city, but we recommend getting out of there asap. Belize city is notorious for it's high crime rate, and while most tourists should be safe, most of the adventure lies in the keys or inland. While reports of violent crime are the first thing you will read about Belize, it really only applies to the capital city. Our team had no problems at all during our stay. With a little common sense it is a fantastic country to visit for anyone regardless of travel experience.
So…how was the scuba diving in Belize? Put simply, AMAZING. The reefs are full of life and the visibility is fantastic, usually over 60-80 ft but can be easily over 100 ft +. There are many atolls that dot the coast and if you are travelling to Belize specifically to dive, then you will mostly likely be staying on one or 2 of the most noted cayes.
Caye Caulker is a charming little Rasta island a quick 40 minute water taxi from the mainland. It's so small there are actually no cars on the island, just sandy streets with golf carts zipping by. Everything is within walking distance and most dive sites are only 20 minutes boat ride away. A VERY laid back vibe covers the island and while you won't find too much in terms of crazy nightlife there are a couple bumpin' spots such as the infamous I on I Regge Bar for those travelers looking to get wild after a day of diving. The food is excellent in every spot our team tried out and cheap, with most meals running around $10-12 USD per person and a cold beer about $2-3. The island is inhabited by locals and a bunch of backpackers, so making friends is pretty much guaranteed. This was our favorite spot during the trip, and coincidentally where we got a chance to try out the best scuba mask of 2015.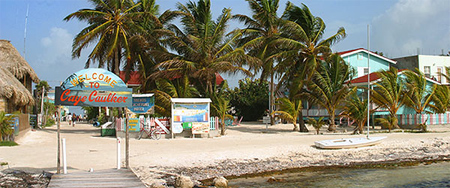 The other major destination of note for Divers is San Pedro on Ambergris Caye, a 20 minute water taxi ride from Caye Caulker or about an hour from the mainland direct. Here the dive sites are even closer, many a 5-10 minute boat ride. San Pedro itself is a busier version of Caye Caulker, several cars can be found in the main town, but still most locals rely on their trusty golf carts. lots of small local bars and several beach front night clubs round out the nightlife. There are an incredible amount of dive shops that all seem to be competing for business which means the price of a 2 tank dive was extremely reasonable. Several dive sites we would recommend you request would be Tackle Box and Esmeralda. Tackle box has several very cool swim-throughs loaded with Jacks, and Esmeralda was swarming with Nurse sharks and several Grey Reef sharks. After 10+ dives in the area we realized scuba diving in Belize would be hard to beat for our next trip!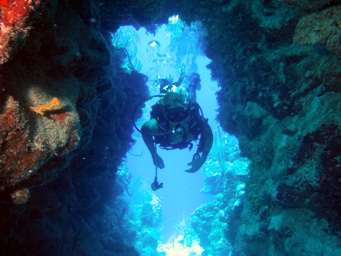 Other major notable dive sites, Lighthouse Reef, Turneffe Islands and Glover's Reef – lie 30 to 60 miles off the mainland, beyond the immense barrier reef. They offer fish and dense walls of coral that disappear 3,000 feet below. Ranked among Belize's best wall dives, Turneffe elbows' southern tip is a busy intersection of currents and big fish; you'll see schools of jacks, permit and barrel sponges. The walls at Lighthouse Reef's Half Moon Caye are shot through with innumerable tunnels and swim-throughs and packed with huge barrel and tube sponges, yellowtail snappers, eagle rays and garden eels. So regardless of where you choose you shouldn't be disappointed. When scuba diving in Belize, wall dives tend do be deeper, so bringing your own personal dive computer is recommended.
If you are lucky to visit Belize any time between March and June, be sure to head south to Placencia. This is prime Whale shark territory. They come to feed on fish spawning and your chances of seeing one are high if the sea conditions are right. Most dive operators will offer both scuba diving and snorkeling with the gentle giants. Overall it's easy to see why anyone who has been scuba diving in Belize will heartily recommend it!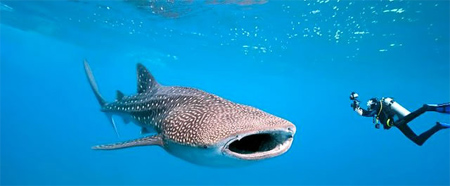 Finally, the famous Blue Hole. How is it?  The general consensus seems to be…underwhelming. While it is considered a must dive for any scuba diver visiting Belize, most people we talked to were disappointed in the experience, especially after a 2+ hour boat ride on bumpy seas. It is a cool sensation descending into nothingness but there is not much wildlife to see and we enjoyed our other dives while scuba diving in Belize much more. Although like the wall dives it is a good idea to bring a personal dive computer to add some extra confidence as the dives there tend to be deep and for advanced divers.
Weather: Subtropical climate, which means warm year-round, especially on the coast. luckily, a brisk prevailing wind from the Caribbean sea moderates hot summer temps on the Cayes and Atolls. Expect summer Mid 80's to low 70's in summer. Winter is a bit cooler, with highs in the low 80s and lows in the high 60s.
Average Water Temp: High 70s in winter to mid-80s in summer, you only need a 3mm wetsuit or even just a rash guard/skin suit.
Average Visibility: On the barrier reef and atolls, vis is usually ~70 ft but can clear up to 100 feet or more, but a bit less inside the reef.
Entry Documents: A passport is required, plus a return or ongoing ticket.
Food: Delicious mix of fresh seafood and local creole dishes. Not to be missed!
Hopefully this article gives you a good handle on scuba diving in Belize and provides some inspiration in between scuba diving trips to hop on a plane and get wet! Happy adventures under the waves everyone 🙂