Mares Puck Dive Computer Review


>> Click HERE to Check the Price of the Mares Puck <<
The Mares Puck dive computer is one of the most basic, reliable, workhorses of all the entry level dive computers. Functional up to 492 feet (150 meters), it can serve as a great backup/secondary dive computer for tec-rec divers. And surprisingly for such a budget computer, the Mares Puck also supports Nitrox (21-50%). You should be able to find it online for under $200, which makes it very attractive to beginners looking to get their first personal dive computer. You will see these scattered all over most dive centers, as they are durable, reliable and inexpensive to replace if lost or stolen. The simple one button design is great for anyone who has never used a dive computer before, or students during their certification.
The Puck has an easy to use one button design with simple press and hold operation for all the various functions. The large face button allows you to operate the computer in all conditions, even when wearing thick gloves. Navigating through the computer programs is extremely simple and very intuitive. There are three function modes: Air, Nitrox and Bottom Time. The Mares Puck can be used in both imperial or metric units, fresh or seawater settings, residual nitrogen reset, option to exclude audible alarms and uncontrolled ascents, has an ascent rate indicators and is altitude adjustable. The Puck also has a watch, date and temperature functions. It's older brother, the Mares Puck Pro is a bit more compact with more features, but very similar in easy to use design.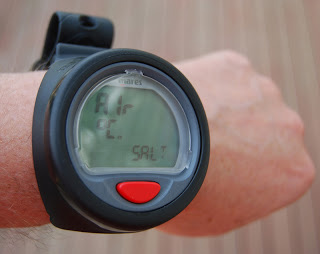 Not that you will be wearing this as a daily watch, as seen in the picture above, the Puck is pretty huge. This is a good and bad thing. It means there is a large, easy to read screen with a great backlight. It also means it is not very streamlined and you won't be rockin' this as your daily watch, like some of the other lets say, more attractive dive computers. But for the super low price you get an amazingly functional and more importantly reliable dive computer. It has an internal dive log of up to 38 hours and with the optional USB cable you can upload the data straight to your PC or Mac. The battery is user replaceable and an extremely common type found just about anywhere (3 Volt CR2450 Battery). The overall construction is very solid, with a high quality rubber strap and strong face bezel. One of our team members has been using the Mares Puck for several years and it is still in like-new condition. 
The decompression model offers multiple user choices and it leans towards a more conservative DCM, great for anyone doing multiple multi-level dives in a single day. For anyone on a budget or looking to get their first dive computer this is a great choice. It's extremely basic, easy to use and what you see is what you get. Those looking for something fancier might like the Cressi Leonardo or Oceanic Geo 2 dive computers, or perhaps the Mares Puck Pro.


Our Rating:


---
Final Thoughts
In this case the word cheap is not a bad thing. This is the workhorse of entry level dive computers. I can take a lickin' and keep on tickin' (literally). Perfect as a backup, with a great conservative decompression model, this is ideal for beginners or tec-divers as a secondary dive computer. It's not packed with all the advanced features of higher end computers but at this price point it doesn't need to be. Thanks for checking out our Mares Puck dive computer review!
Pros:
The price
Large display
Easy to operate with single button design
Great for beginners
Long lasting, durable design.
Cons:
Too basic for advanced divers
The size, it's HUGE
Not a viable daily watch option
No advanced features
---
Specifications
Algorithm:  RGBM (Reduced Gradient Bubbles Model)
Audible Alarms: Yes (toggle on/off)
Depth Display:  To 492 Feet (150 Meters)
Altitude Adjustable: Yes
Operating Modes: Air, Nitrox Or Bottom Time
Back Light: Yes
Onboard Compass: No
Memory Capacity:  38Hours
Time, Date & Temperature: Yes
Imperial/Metric Display: Yes
Battery: 3 Volt CR2450 Battery