Top 10 Best Snorkel & Scuba Fins 2023
Below you will find our staff's current top 10 Best Scuba fins of 2023. For this list we combined the results of a survey we ran in December 2019 along with our team's current favorite dive fin choices. The results was a fairly balanced mix of open heel scuba fins and full foot dive fins. When it comes to the debate of split vs solid design, in our experience i really just comes down to diver preference. The most important part is your scuba fins are comfortable and work for the style of diving you love! For those diving consistently in warm tropical waters, a lightweight full foot fin might be perfect without the need for insulated boots. Those diving in somewhat more "unforgiving" conditions might consider opting for an open heel design to accommodate neoprene scuba booties. Of course, all of these work great as snorkel fins as well!
Owning your own set of scuba find and not having to rely on the hope of a dive shop having your size in uncomfortable, low quality fins is certainly a nice feeling. Being familiar with your gear allows for more precision during your dives and that in turn leads to a higher confidence level. Tropical warmth or freezing cold, there are fins on this list for scuba divers of all walks of life!


Our Top Rated Dive Fins
---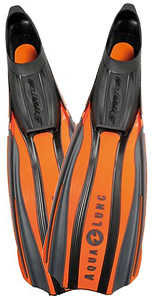 Aqualung Stratos 3 Full Foot Scuba Fins
Heading up our top 10 scuba fins list is the fantastic Aqualung Stratos 3. This full foot fin combines amazing functionality, and comfort while not breaking the bank. Anyone who dives in warmer waters on a consistent basis would do well to look into these. The design puts the flex point close to the front of your foot, which helps utilize the entire fin while you kick. This leads to a great power vs effort ratio, so you wont be using up as much energy having to kick hard. This means better air consumption and longer dives. The material is soft and the toe area is surprisingly roomy. The overall build quality is great and all these factors combined with the low price point makes this our go to dive fin of choice for 2023. Do yourself a favor and give them a look! They also work fantastic as snorkel fins for tropical explorers!




---

SEAC Propulsion Wave Open Heel Dive Fins
Looking at the Seac propulsion scuba fins, you will notice a very similar design to the Aqualung Stratos 3's above. This is not a complete coincidence at all. This general design gives a great balance of power and maneuverability. The fin length is decently long which provides ample thrust, especially when paired with the 3 soft rubber grooves which help channel water and redirect it as thrust. The open heel design makes it a versatile dive fin that suits any situation and the foot pocket is super comfortable. The price range is affordable while still being a high quality scuba fin. These fins provide a decent level of flex, so those who prefer super stiff fins might want to look at other options. Several members of the Scuba Diving Dreams team rock these scuba fins as their daily gear.




---
There was some debate among the team which position in the top 3 best scuba fins the ScubaPro Seawing Nova dive fins would take. They are unquestionably one of the best set of scuba fins any diver could choose, the only downside is the high price. This is why they come in at number 3 on our top 10 list, as the price level makes them attractive mostly to intermediate or advanced level divers who really want the best equipment. ScubaPro is synonymous with high quality scuba gear, and this design is amazing. The strong flex point ensures the entire fin gets into the action and provides an amazing level of thrust. The tapered edges on the blades help in alternate kicking styles and the back strap is extremely well built and comfortable, with a large grip point that really helps when slipping them on. Overall the Seawing Nova's are pretty much the best dive fin money can buy, if you have the higher budget for premium level gear. They have have consistently won editors choice awards from all the major scuba diving publications and topped our user survey in 2023. The price point might be off putting but anyone who has tried these scuba fins has fallen in love with them, and with good reason.




---
Atomic Aquatics has been absolutely killing it with their high end lineup of scuba gear over the past few years, and these full foot split fins are no exception. The surprising thing is the price point! The are actually affordable to entry level divers looking to build their own set of scuba gear while also being versatile enough to appeal to advanced level divers. Split fin designs have been gaining popularity over the last several years and if you try out these dive fins, you will see why. They provide a nice amount of flex and a decent amount of thrust vs exertion. The rubber is nice and soft, and wont chafe like some more generic fins dive centers use as rentals and having comfortable scuba fins makes a world of difference. These fins look great with an eye catching design that is form meets function and they easily deserve the number 4 spot on our top 10 scuba fins list. Great for beginners or experts who love to dive in warmer waters.




---
Many of the Scuba Diving Dreams team members are big fans of Cressi scuba gear. The quality level tends to be consistently high and their price point tends to be affordable to any level of diver, from entry level to advanced. While these fins do have a higher price point than some of the others on this list, the performance is some of the best you will get. The blades are a bit harder than usual, which lead to great performance and power while using the standard flutter kick. The foot pocket areas are also a bit roomier, which means anyone using thicker dry suit boots will love these for cold water diving. The EBS (elastic bungee system) is now standard on most Cressi fins and it is one of the best things about these scuba fins. The EBS makes donning the fins super easy and the large rear grips are a nice touch. The Cressi ARA is a very versatile fin for any diving situation and a fan favorite for anyne doing drysuit diving. The price point might make these scuba fins more attractive to intermediate level divers, but beginners looking to invest in their gear should be very happy if they pick up a pair of these great dive fins!




---

TUSA Solla Open Heel Dive Fins
TUSA is a brand that has steadily been growing in popularity and quality over the last few years. One of their scuba masks is steadily climbing out top 10 scuba masks list. We were pleasantly surprised with the TUSA Solla fins, they are a great choice for those on a budget looking for a sturdy pair of open heel dive fins. The blades are a medium size and offer great maneuverability and are built from a mixture of hard and soft materials. This gives them a nice level of flex that is easy on the knees and wont strain your leg muscles. The heel strap is also very comfortable, with a more anatomical design that contours nicely to the back of your foot, something more open heel scuba fins should take note of. Comfortable and powerful pretty much sums up the Solla scuba fins. Definitely worth a look!




---

Dive Rite XT Open Heel Scuba Fins
While the Dive Rite XT scuba fins might not look as flashy as some of the other dive fins on this list, they certainly have great performance. The open heel design features one of the sturdiest straps of all our top 10 scuba fins, with a re-enforced stainless steel spring providing rock solid construction.  The blades themselves fall in the medium to stiff range and work amazingly well for frog kicking. The slightly stiffer design really gives you quite a bit more power when compared to more flexible fins, while the back strap and foot pocket remain comfortable. The Dive Rite XT was one of the more popular fins among our team members who had a chance to try them out, and scored well on our 2016 community scuba fin survey.




---

ScubaPro Twin Jet Open Heel Split Scuba Fins
Another great pair of dive fins from ScubaPro. The Twin Jet's split design features a more rigid outer support while the inner part of the blade remains flexible. This reduces stress on the knees while kicking, and still helps provide ample thrust. The large vented flex point at the front of the foot pocket is a similar design to the awesome ScubaPro Seawing Nova, which is never a bad thing. For divers who mainly use a flutter kick, this split fin design provides an amazing level of propulsion, so if that is your go to kick style definitely look into getting yourself some split fins. The construction of the Twin Jet dive fins is the same high quality of comfort and design you would expect from any ScubaPro product, and the flexible stainless steel heel strap keeps them firmly in position without the need for constant adjustment.




---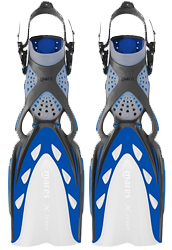 Mares X-Stream Open Heel Dive Fins
The Mares X-Stream scuba fins are a direct response to the amazing ScubaPro Seawing Nova, as you can probably tell from the first glance. A large flex point at the front of the foot pocket helps relieve stress on your joints while getting the large blades to power you through the water smoothly. The vented foot pocket is one of the softest we have tried so far, and works great with both bare feet and neoprene scuba boots. While falling into the higher price range that usually appeals to intermediate or advanced divers, these are certainly some of the highest quality scuba fins in terms of construction materials and performance. A worthwhile investment for any diver looking for premium level gear.




---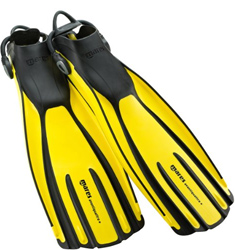 Mares Avanti Quatro Open Heel Scuba Fins
Another great scuba fin design that combines stiffer plastics with soft channels to help add some extra oomph to your kicks. The Mares Avanti Quatro shares design elements with both the awesome Aqualung Stratos 3 and SEAC propulsion wave, while adding a very useful bungee style backstrap. This means no fiddling with adjustments, just slip the fin on, and the back strap stretches to snugly hold it in place. Quick and easy is the name of the game here. The ratio of soft elements to hard plastic creates a dive fin that is a little stiffer than some others, but provides rock solid thrust when kicking, thanks in part to the large wide blade.




---
So there you go, our current top 10 best scuba fins list of 2023. Out of the hundreds of different dive fins out there, these 10 have really managed to stand out. A big thanks to our passionate members of the scuba diving community who contributed their votes and time to help create this list! Remember, invest in your scuba gear and maintain it properly and it should last you a lifetime of amazing dives under the waves! If you are looking for a scuba mask as well, feel free to check out our top 10 scuba masks of 2023 list for a similar helpful buyers guide. Or if you are a first time scuba gear buyer, perhaps our best beginner scuba gear package page could help you out. Regardless if you are looking for scuba or snorkel fins, these are some top notch options. As always, safe diving and enjoy our beautiful oceans!