Oceanic OCi Dive Computer Review


>> Click HERE to Check the Price of the Oceanic OCI <<
One of Oceanic's most popular and recognizable dive computers, The Oceanic OCi is a serious dive computer for serious divers. It is packed with all the premium features you would expect from a high end dive computer and combined with the slick, sporty appearance, this makes it on of the more best selling dive computers for enthusiasts of the sport. The ease of use makes it accessible to beginners but to be honest, a casual or novice diver would be better off investing in a mid range dive computer, and some other scuba gear for the same price. For those who dive regularly or work at a dive shop this is a fantastic choice. Let's break it down!
The best way to describe the Oceanic OCi is that it is the love child of extremely high end OC1 and the best selling OCS. It lacks the titanium frame of the OC1, but has all the same features such as wireless air integration with up to 4 different gases/transmitters, buddy air check feature and of course a digital compass; A necessity for anyone leading groups or doing search and rescue diving. All these features make it a popular choice for divemasters and instructors or anyone making a living from scuba diving. The OCi packs all the features of any full sized console computer but in a sleek, compact design that looks great as a daily wrist watch as well.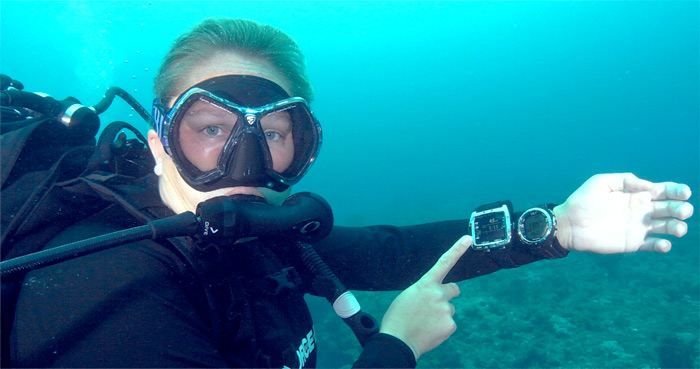 The Oceanic OCi falls directly into the high end range of wrist computers, but without the bank account shattering price of the Oceanic OC1, while having a more advanced feature set than the OCS for only a bit more. The screen is easy to read with all essential dive info clearly displayed and is a mix of LCD and Dot Matrix readouts. While an entire Dot Matrix display would be nice, the LCD elements are placed well and offer crisp readouts of any info you would need during your dive, with depth and NDL, gas selection, pressure and time remaining, tissue loading and variable-ascent-rate bar graphs. Useful data such as temperature is available on the alternate screens. The four-button navigation makes sense even before you read the manual (which unlike some others is also good), and the 4 sturdy stainless buttons operate with a pretty satisfying click. The entire construction from bezel to strap is rugged and the high quality you would expect from Oceanic and the high end price range in general. This wrist computer can take a lickin' and keep on tickin' and any experienced diver knows reliability is always a major factor when considering purchasing a new piece of scuba gear.
>> Check out what other divers are saying about the OCI <<
Speaking of buttons, they of course operate the menu system, which is thankfully well laid out and super easy to navigate with various button press or holds. See our video review above for a deeper demonstration but everything makes sense as it should and is easy to find. Within a couple minutes of hands on time we were able to program and select from 4 different gas mixes, quickly change our decompression algorithms to more liberal or conservative settings with the OCi's dual algorithm options and quickly access all the main features. The Oceanic OCi has push button or water activation for the dive mode. Having the push button option is great for checking your air pressure and setup before each dive and while on the surface, while the water contact function is good for those who tend to forget or just want to hop overboard. It also has a great free diving mode for all the breath hold divers out there.
When using the included wireless air transmitter you will have access to 2 extremely handy functions:
Air Time Remaining (ATR): The OCi calculates your air time remaining in minutes using your current depth, tank pressure, breathing rate, ascent time and decompression status for an accurate ATR for quick reference.
Dive Time Remaining (DTR): In this mode, the OCi combines air time remaining along with nitrogen and oxygen absorption to provide you an accurately updated dive time remaining.

The backlight performed great during our tests and provides great readability in darker conditions. This is a popular dive computer for cave and tec divers after all with the 4 gas options. The backlight has a sensor that calibrates the brightness based on ambient light, which helps save battery power. That's a good thing as the Oceanic OCi will probably not be leaving your wrist any time soon. It makes a great wrist watch with it's gorgeous design and dual time zone features, a must for any travel addict. The watch function has all the standard features you would expect, stop timer, alarm etc. This rounds out the package nicely and several of our team members rock their OCi religiously, which is usually a good conversation starter with other divers while traveling.
So did we encounter any drawbacks during our time with the OCi? Our only complaint would be the internal dive log is a bit limited at 24. This issue is slightly offset by the fact the Oceanic OCi dive computer comes with the USB transfer kit for those who enjoy keeping a digital record of all their dives, which means you don't have to buy an expensive USB transfer kit separately, unlike some other brands. The only other limiting factor to consider would be the price range. The price might deter entry level or intermediate divers who do not need all the advanced functions the OCi offers, but experienced scuba divers will get a great bang for their buck. It is significantly cheaper than the elite level OC1 with 99% of the same functionality. If you are planning on taking advantage of all these awesome features then you will instantly be in love with the Oceanic OCi.


Rating



---
Final Thoughts
To put it simply, we love the Oceanic OCi. It really is one of the best dive computers for serious divers who want a computer with an All in one style feature set. From the rugged construction to the ease of use, the OCi is hard not to recommend. The price point might put off those looking for an entry-mid level wrist computer, but for those looking to invest in their setup long term, this is the perfect choice. We would pick this over the more expensive OC1 in almost every case. A fusion between 2 of oceanic's best computers that is all killer no filler. We don't give out too many 5 star reviews but the Oceanic OCi definitely earned it.
Pros:
Every feature a advanced diver could want
Air Integration
Easy use and read display
Solid onboard digital compass
Durable design
4 Programmable gas mixes
Buddy check feature
Comes with USB data transfer kit
Looks great!
Cons:
Price range not attractive to all divers
24 dive log limit
Specifications
Algorithm: Dual: Pelagic Dsat (Spencer/Powell Data Basis) Or Pelagic Z+ (Buhlmann Zhl-16C Data Basis)
Audible Alarms: Yes
Wireless Air Integration: Yes
Depth Display:  Norm (Air/Nitrox): 330′ (100 Meters), Gauge/Free Dive Modes: 495′ (150 Meters)
Altitude Adjustable: Yes, 2,000′ To 14,000′ (610 To 4,200 Meters)
Operating Modes: Air, Nitrox,Gauge or Free Dive
Back Light: Yes
Onboard Compass: Digital compass
Memory Capacity:  24 dives
Time, Date & Temperature: Yes
Imperial/Metric Display: Yes
Battery: Rechargeable User Replaceable Lithium-Ion Battery and replaceable wireless transmitter battery.