Shearwater Petrel 2 Dive Computer Review: Perfect For Technical Divers


Compared to all the other dive computers we have had a chance to review the Shearwater Petrel 2 stands out as an obvious choice for technical divers. The Petrel 2 dive computer is a fully loaded open and closed circuit wrist computer, which means it supports both normal regulators and re-breathers. It also has 5 different programmable gas mixtures and supports trimix diving as well. While all that might sound like a mouthful, to technical divers these are all important factors when looking to purchase a new dive computer. The good news is that this feature rich dive computer is also a great choice for recreational scuba divers even if you never plan on becoming a tec diver.
Lets start with the most obvious component. The large 2.4 inch LCD screen. This crisp display is a nice step up from the normal Dot matrix style displays on most other wrist dive computers avaliable today. More and more manufacturers are loading their high end computers with actual screens, which are low on power consumption but offer a LOT more view-able information while remaining extremely readable. The backlight on the Shearwater Petrel 2 is adjustable and on medium brightness with a single AA alkaline battery (or lithium for even longer life), you will get about 35 hours of life. Not too shabby at all. You can also customize the layout of all the essential info to suit your dive style and cool features like time to surface calculate the actual end of dive time in minutes, based on decompression and safety stop settings you can set before your dive.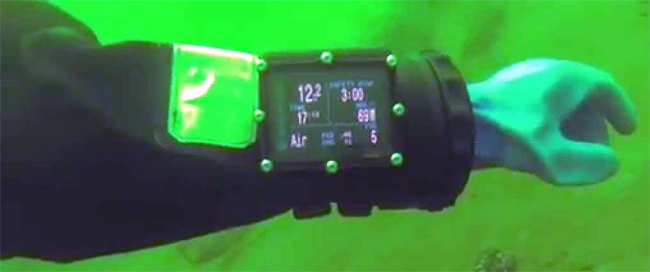 Looking at the Shearwater Petrel 2, with its information rich interface and long feature list you might think that navigating all the menus and settings is going to be an intense learning experience. Thankfully not. Shearwater was smart on with their 2 button design that keeps things simple, and the menus are logical and well labeled. In the default mode, the left button acts as a menu access, while a single press of the right loads the awesome tilt compensated digital compass. Additional presses of the right button toggles through the various info display modes. The excellent menu system and easy to use operation make programming various gas mixes, switching between them mid dive and finding any critical info you might need super simple. This is a fantastically well designed dive computer, and I wish some of the larger scuba gear companies would take note.
>> See what other divers are saying about the Shearwater Petrel 2 <<
Lets talk about the digital compass included in the Shearwater Petrel 2 is one of the best I have encountered. It is tilt compensated for starters, and after a quick calibration (only needed when you change the battery) it reads properly at any angle. It also has a degree wheel displayed which you can toggle between 60, 90 and 120 degree display modes, a very nice indicator vs some more compact dive computers only displaying a North indicator and heading readout. You can easily mark a heading and it automatically marks the reciprocal heading for finding your way back. Anyone doing any type of underwater navigation and desiring a digital compass in their dive computer, you would be wise to choose the Petrel 2. Check out the video from Shearwater below for a demonstration of this top notch feature:
After having a chance to use a full LCD screen dive computer, it is hard to go back to traditional watch style dive computers with a more compact screen. The responsiveness of the screen updates and bright display really makes it stand out next to the competition. Some of the other larger scuba gear companies are starting to add LCD screens to their higher end models and it is easy to see why. Having more information availiable to you while technical diving is a great confidence booster and helps mitigate some of the risks involved when using various gas mixes. Throw in rebreather support for closed circuit diving and you have one extremely versatile dive computer, perfect for intermediates or advanced level scuba divers looking to get into technical diving.
The Petrel 2 also comes equipped with a 1000 hour dive log, which blows away most of the competition. Not only that, but it comes with a Bluetooth transmitter to easily upload your dive data to youe PC, Mac, or smart phone. Shearwater also provides an accompanying software which lets you analyze you dive in depth with all the stored data. This is awesome for anyone who enjoys keeping a digital dive log.
While Shearwater is a smaller company than most of the major players in this industry (Cressi, ScubaPro, Suunto etc) they have smartly chosen to focus on making fewer products at an extremely high quality level. The Petrel 1 and Predator dive computers were well received by divers and now the Petrel 2 looks to continue that high quality reputation, by advancing upon the original design and becoming slightly more compact and versatile. The Petrel line of dive computers tends to be a bit more conservative with their decompression model when compared to other computers, but with a focus on Nitrox, Trimix and Technical diving scenarios, that adds an extra layer of comfort and reassurance when avoiding decompression sickness.  The only drawback that jumped out at us is the fact that it really isn't a great option for a daily wrist watch, unlike some of the other high end dive computers from Oceanic. Unless you want to look like you came from the set of the latest Star Trek movie!


Rating



---
Final Thoughts
Anyone interested in getting into technical diving needs to take a look at the Shearwater Petrel 2 dive computer. All round it is one of the best high end dive computers, sporting a TON of functions and one of the best digital compasses we have ever seen in a wrist computer. This is a great dive computer for intermediate to advanced level divers who want the flexibility to get into Nitrox and Trimix diving in the future. The crisp LCD screen sets it a step above most dive computers using older crystal displays and the rock solid build quality means it's made to last. One of the absolute best dive computers we have been lucky enough to get our hands on.
Pros:
Supports Air, Nitrox and Trimix
HD screen is easy to see in any conditions
Easy use and read display
One of the best compasses in any dive computer
Extra durable design
5 Programmable gas mixes both open and closed circuit
Works with re-breathers
Bluetooth data transfer built in
Great for aspiring Tecnical divers
Cons:
no wireless air integration
cannot be used as a daily watch

Specifications

Algorithm: Dual: Buhlmann GF algorithm or Optional VPM-B algorithm
Audible Alarms: Yes
Wireless Air Integration: Yes
Depth Display:  Norm (Air/Nitrox): 330′ (100 Meters), Gauge/Free Dive Modes: 495′ (150 Meters)
Altitude Adjustable: Yes, 2,000′ To 14,000′ (610 To 4,200 Meters)
Operating Modes: Air, Nitrox,Gauge or Free Dive
Back Light: Yes, LCD screen with backlight
Onboard Compass: Tilt compensated digital compass
Memory Capacity:  1000 hours
Time, Date & Temperature: Yes
Imperial/Metric Display: Yes
Battery: AA Alkaline or Lithium user replaceable battery.