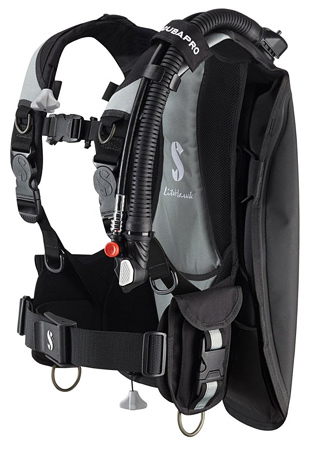 ScubaPro Litehawk BCD Review: Streamlined Perfection

Any experienced scuba diver knows that the ScubaPro name is synonymous with quality dive gear. So naturally it should come as no surprise that the sleek and stylish ScubaPro Litehawk BCD exceeded our expecations on almost every front. This is THE Scuba BCD for anyone who likes a lightweight, uncluttered, travel ready setup. So basically any scuba diver who goes on frequent dive trips. The ScubaPro Litehawk is a great combination of efficient design and usability, like the awesome Cressi Start BCD, it is built out of 1000 Dernier Condura nylon which means it is tough and super durable.
Looking at the ScubaPro Litehawk, you might think it looks a little bare bones. This is true, and completely by design. The shoulder straps may look thin, but the dense padding provides ample comfort and evenly distributes the weight of an air tank evenly. The large chunky shoulder strap releases are great for those who like to hop out of their gear in the water and hand it up to the boat, their rounded shape makes them nearly impossible to miss, and won't leave you fumbling. Similar to other BCD's with travel in mind, much like the Cressi Air Travel (read our review here), this BC jacket ditches a larger cumberband waist strap in favor of a sleeker mid section clasp. As mentioned in the Air Travel review, you might think this design may lead to some discomfort, but given the way the design evenly distributes weight it really is not a problem, and the padded back rest does its job well.
Speaking of the midsection/belt, It comes two side pockets from accessories or trim weights. As stated in some of our other scuba BCD reviews, integrated weights are a very handy system for those who like to own their own gear, having a consistent weight setup is a good way to be more confident and comfortable in your scuba gear, so it is a shame the Litehawk does not come equipped with a full integrated weight system. The upside is that this keeps the overall weight low (about 6lbs depending on size) and is great for travel packing.  However, ScubaPro smartly corrected this shortly after release by launching the additional quick release weight kit. The side mounted trim weights combined with the back filling air bladder makes keeping yourself evenly trimmed and streamlined while diving super easy, as they help balance each other out naturally. There are 3 sturdy dump valves, one on the left shoulder, one on the bottom and a pull style deflate in the inflator hose/over pressurization system.
Being a rear inflation BCD, the ScubaPro Litehawk is perhaps better for intermediate to advanced divers, simply due to the fact that some beginners have a harder time staying vertical while on the surface with these style jackets. But of course, with a little practice, anyone can get used to the design and balance themselves properly. The air bladder itself provides plenty of lift, up to 35 lbs and features a cool elastic system which keeps the jacket tightly compressed while deflated to decrease drag and keep you streamlined during your dive. Not having extra lose material casually floating about actually made quite a noticeable difference during our test dives and this is a great system more scuba BCD's should incorporate into their design.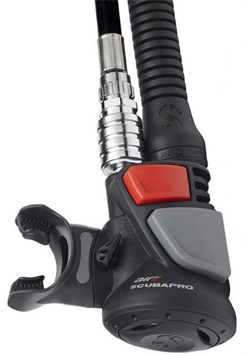 There are several options available when it comes to the ScubaPro Litehawk, but our favorite was the optional BCD inflator model that doubles as a secondary regulator. This eliminates the need for an additional hose and regulator for your secondary, further decreasing drag and weight. Due to the shorter hose length in an out of air emergency with your dive buddy you simply pass them your primary regulator and breathe normally through your inflator. It might take a little getting used to, but for those looking to really un-clutter their dive kit this is a great option. This is a full functioning regulator complete with a large chunky purge button.

Scuba Pro Litehawk BCD Rating


---
Final Thoughts
The ScubaPro Litehawk BCD is a fantastic choice for intermediate to advaced scuba divers who love to travel with their gear. The streamlined, lightweight setup makes packing this BCD easy and when you combine that with the extremely durable construction (of course, its ScubaPro…) you have one of the best travel dive BCD's on the market. We had a hard time finding many faults with this BC jacket, the lack of integrated weights being the most apparent, but even that is easy to fix with a small upgrade. This is one of the best compact scuba BCD options you will find on the market today.
Pros:
Amazingly light and streamlined
Elastic bungee system keeps the jacket tight when deflated.
Extremely durable material
Great price vs performance
Inflator includes full secondary air source regulator, adding less clutter.
Cons:
No integrated weight system out of the box
Back inflate style jacket not amazing for beginners.
Some color accents or options would be nice